Navigating editing software can be overwhelming, especially for new podcasters. If you find yourself feeling a bit lost with these tools, there's no need to stress. You can edit your podcast easily using the Hubhopper Studio Editor on your desktop or laptop. It's a free audio editing tool offered by Hubhopper.
Watch this video to learn how to use this free audio editor for creating a polished podcast. We've also provided explanations for each tool within the editor to ensure your editing process goes smoothly.
Split Tool

The split tool allows you to cut your audio file into multiple sections. You can use this to isolate sections that you want to delete or duplicate. This tool is very important for selecting specific parts that you wish to work on or edit out.
Move Tool

This tool allows you to move sections of your audio file to the left, right, or to a new layer. This becomes important when you wish to stitch different parts of audio together in series. One such use case would be to play the intro music first before starting with your main content.
Duplicate Tool
This is the 'duplicate tool'. With this tool, you can make a copy of any section in your project. This can be used for duplicating sound effects to use throughout your podcast.
Remove Tool

This is the 'remove tool'. This tool will allow you to remove any section of your audio file. This is typically used with the split tool where you can first split the section you want to remove, select the remove tool and finally select the section you want to remove. This is very useful in cases where you make a mistake while recording.
Pinch Feature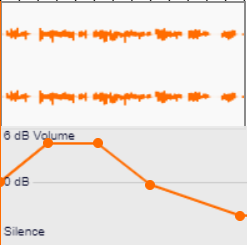 Another important tool is the volume adjustment tool. This tool is used to control the volume of your audio file. You can simply make points and pinch down the volume of a specific part in your audio file. This tool will allow you to manually add in your fade-in and fade-out effects.
Other Features
Combine Tool: This tool will allow you to combine all present audio files in the editor into a single audio file.
Save/Load Project: You can always save your work onto your desktop/laptop as a local file and work on it later by loading it. This allows you to have flexibility on working with your episode projects.
Export as WAV: WAV is a very high quality audio format. However, note that this also means your file size will be large. The file size limit for audio upload on Hubhopper studio is 200 MB.
Manage Memory: This basically keeps track of your work as you edit your audio file allowing you to undo and redo certain edits that you had previously made. Once you are done working on your audio file, we recommend clearing your 'manage memory' to reduce the file size for downloading.
Blank Layer: Add a new blank layer where you can add audio files by recording it directly or importing it from your system.
How do I add music/sound effects to my podcast?
To add music/sound effects to your podcast, we will first have to find music that is copyright-free. The performing arts industry works on licensing, so be careful not to use somebody else's work without due credit to them, sometimes through attribution, other times monetarily.
To start off, we can simply use music that does not have copyrights. We recommend using the 'YouTube Audio Library', which has a variety of amazing music and sound effects and is always updated. Besides, you'll find that they can also be filtered according to genre, mood, instruments, etc. to help you find the best piece of music that suits your podcast well!
Once you're done, you can click on 'Download .mp3' and then upload the file on Hubhopper Studio.
We hope this blog was helpful, and if it was please let us know. Happy podcasting!