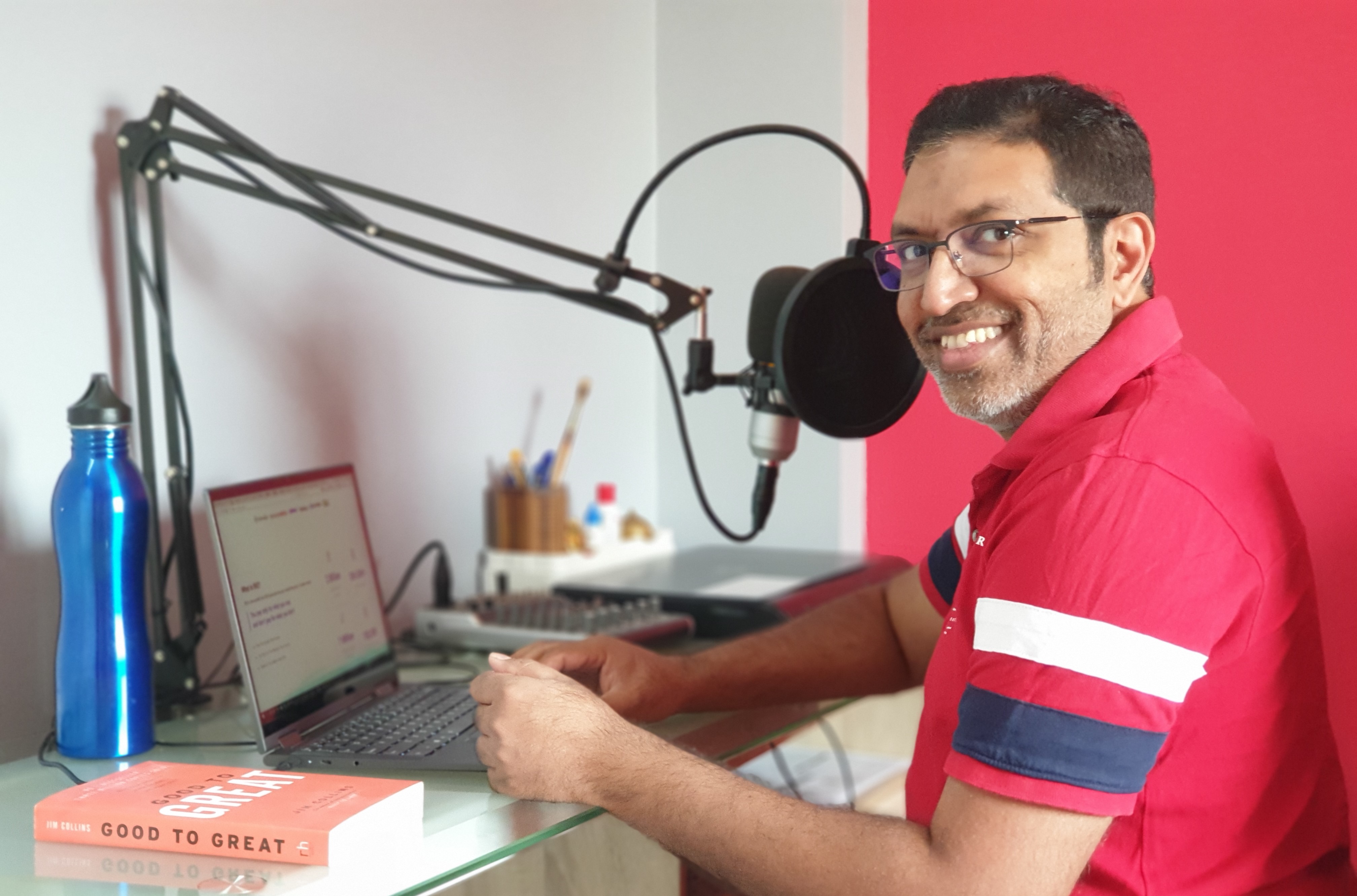 For Dilip - internet marketer, niche blogger, podcaster, freelancer, mentor and social media buff - podcasting offers him an opportunity to make use of his experience and help budding podcasters in creating, promoting, and monetizing their shows.
Through "The Podcasting University", the host aims to help people start their podcast smoothly. Having faced a roadblock himself in his first podcasting attempt, Dilip knows what it's like to start a journey and facing an abrupt end.
Now that the industry is more adapting and open to audio format as compared to a few years back, Dilip has made an attempt to help new podcasters. In every episode, he interviews people who have had first hand experience in the industry and have seen success through hard work and dedication. The podcast lifts the curtain on such people who have been through the grind.
We talked with Dilip about his podcasting journey so far, what he has learned along the way and what plans he has in store for his podcast.
How did you come about starting your podcast?
My first tryst with podcasts was way back in 2010 when I first happened to listen to a podcast from a marketer called Yaro Starak. Podcasting wasn't that well known then but over a period of time, when I kept regularly listening to shows, I realized that starting a podcast wasn't difficult, more so because I was already generating content for my blog. That's how I started my first podcast in 2015. Back then, I had to stop that podcast because there wasn't any kind of support from an Indian perspective nor any podcasting platforms or directories that were promoting podcasts to Indian audiences.
However in 2019, when I encountered a group of new podcasters who were all just starting out and had gathered for a meetup, I felt that I could use my experience as an internet marketer and a blogger to help people who are planning to start a podcast. That's where the idea for The Podcasting University came from.
What's your recording setup? Any recording tips you'd like to share?
I started off with a simple laptop and worked with its in-built microphone. I also recorded a few episodes using an app called Dolby. After some time, I decided to spend on some equipment and bought a Behringer Q802 Mixer, a microphone and a pop filter. Other than that I use Audacity to edit my recordings.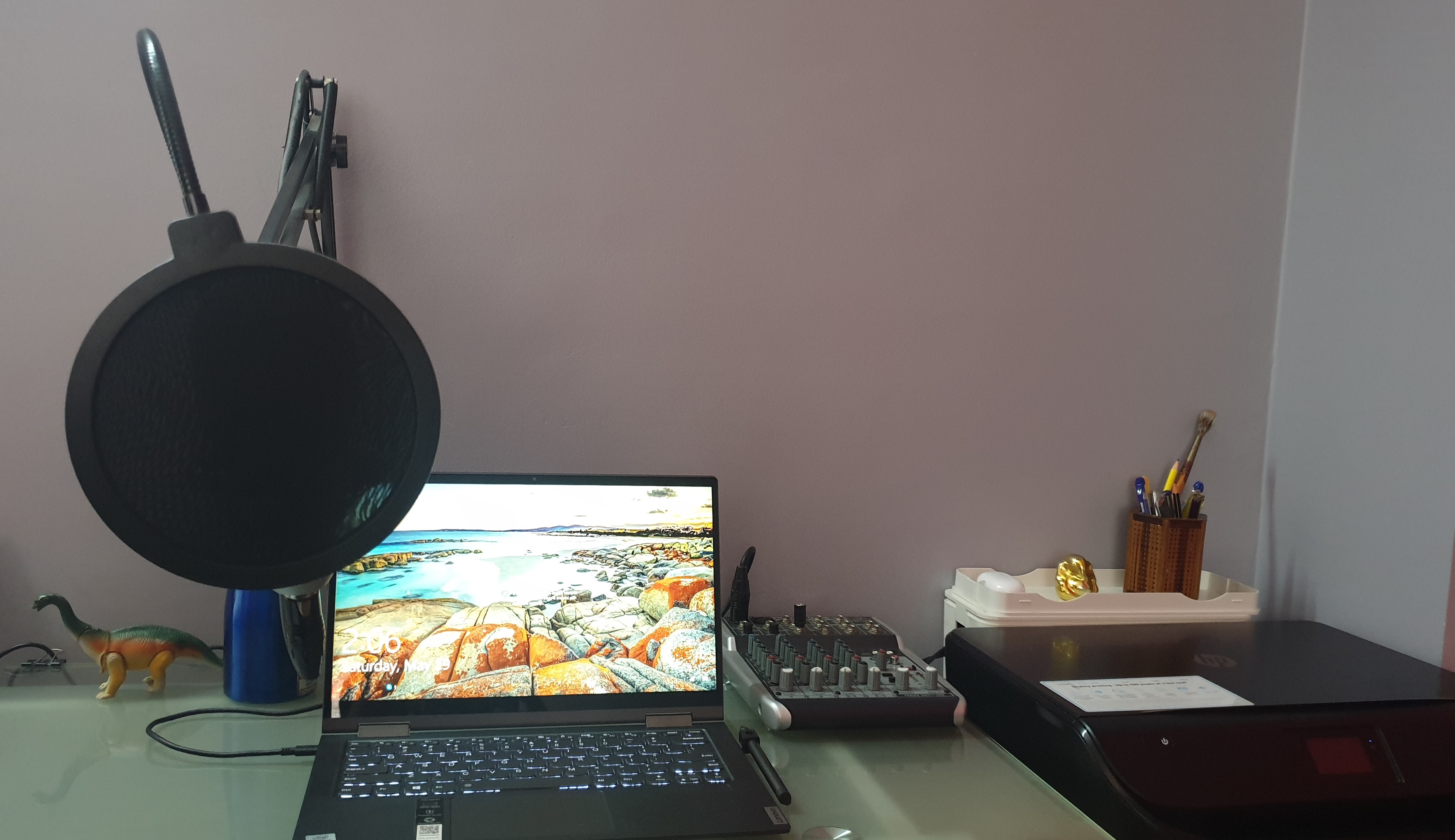 As for recording tips, I'd suggest starting off small. Don't spend on expensive equipment as soon as you begin podcasting. There are extremely good and handy tools out there that can help you record good quality audio. Even Hubhopper Studio has a recording feature that gives good audio. Once you have about 50 odd episodes, then think of investing in recording equipment.
Tell us a little about your podcast's planning routine. How do you maintain consistency and quality, episode after episode?
I had a content planner that I used for my blog. I built a similar content planner for my podcast as well. It has details of what I will be producing in which week. Once I've planned for the coming few weeks, I produce content in batches. I record at least three interviews in a week followed by editing, producing and keeping it ready for release as per the plan. Similarly, I record all my solo episodes as per the plan in my planner and keep them ready to go out when scheduled. This helps me maintain consistency and also ensures that only the best content is released.
Both your partner and yourself are hosts of multiple podcast shows. How did both of you come about podcasting and is there any great podcasting advice that you have shared?
We were looking at multiple ways of driving traffic to my wife's blog - The Tastes of India. That's when we happen to see a comedy clip from an old movie starring Amitabh Bachchan where he cooks while listening to a radio show. That triggered the conversation around starting a cooking show podcast. Since I had knowledge and experience about podcasting, it wasn't difficult for us to start.

That's how The Tastes of India Podcast started. Initially, the show didn't see a lot of listenership. It was demotivating and sometimes we'd think about pulling the plug off the show. But every week, on the day that we were to record the episode my wife would say, "Consistency and persistence is the name of the game", and we would continue. Eventually, our efforts paid off. It really helps if you have a partner who pushes you forward when you are down and unmotivated.
How do you balance multiple podcasts along with being an internet marketing entrepreneur?
It is about prioritizing and planning. I consider these as individual projects and plan accordingly. Some of my internet marketing regular work is outsourced that helps me leverage some time. Whatever things we manage on our own is all planned. We ensure that we use a daily task management tool to ensure our tasks are tracked and completed. Activities are spread across weeks and days. For instance, most of my recordings are planned for the weekends. Content writing is usually planned for Mondays. Promotional activities are planned for Thursdays and Fridays and so on. In case of an unforeseen disruption, we re-organize and start again.
What do the future of your podcast and yourself look like?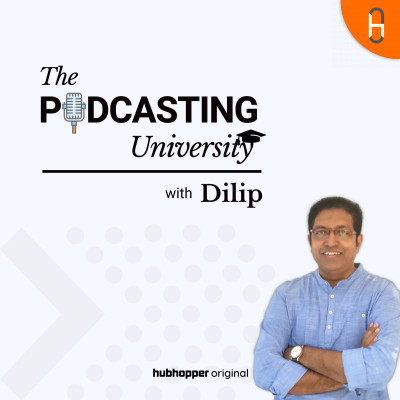 The Podcasting University has only touched the tip of the iceberg. There's a lot more content that I want to put across to my listeners. I will be sharing my internet marketing experience so that people can use that to promote and monetize their shows. There's a lot that we have in terms of plans. We are also planning to start a community around podcasting and a few simple and free courses for people who are planning to start off with podcasting along with coaching and mentoring sessions.
Share an aspect about Hubhopper that you like and an aspect that can be improved.
Hubhopper is the simplest podcasting platform you can find that provides almost everything that you'd need to start a podcast. I love the support that Hubhopper provides for podcasters who are starting off. One aspect that I would love to see is the feature of scheduling episodes. It will help a lot of people like me who have episodes ready but can't schedule them for release.
What's your favorite thing about podcasting? Any piece of advice you'd like to share with budding podcasters?
Unlike any other form of content creation podcasting is the easiest to reach out to your audience. Audio has been a preferred entertainment for all of us for years and podcasting provides access to that medium. The barrier to entry is very low and irrespective of your personality, introvert or extrovert, you wouldn't find it difficult to start a show and share your thoughts with people.
I'd advise budding podcasters to just start off without procrastinating. Keep it small in the beginning and avoid investing a lot of money. Stay consistent and keep pushing yourself. Plan your show well in advance, at least 5 episodes. Don't look at analytics for about 10 months.
Key Takeaways
Dilip has only scratched the surface when it comes to his podcasting endeavors. Knowing the ever-evolving podcasting industry, The Podcasting University's host is exploring the many facets of it. Through years of experience and practice, Dilip has learned how to balance and sometimes overlap his experience as an internet marketer, blogger and podcaster to create valuable content for his audience.
The key takeaways from this interview are:
Start small. Don't spend on expensive equipment right off the bat.

Plan and create ahead of time. Maintain a planner to monitor your activities.

Prioritize your work and schedule your week accordingly. Keep space for last-minute changes.

Don't look at analytics in the beginning as it's the primary source of demotivation.

Just start it. Don't procrastinate.
This was his podcasting experience! Tune into "The Podcasting University" today! If you want to start your own podcast, then make something cool with Hubhopper Studio!