With the newly upgraded Hubhopper mobile app for Android, you can now easily create, host & distribute your podcast all the while discovering the best of podcast shows and enjoying a premium listening experience in a single place, all for free.
This upgraded version of the Hubhopper mobile app is designed to be your easiest way to discover, create and distribute your podcast, letting you carry the podcasting world in your pocket. Podcasting has never been this easy.
In this article, we will be taking you step by step on how you can start your podcast and discover new podcast shows to tune into through the upgraded Hubhopper mobile app.
Download the Hubhopper mobile app for Android
Your first step is to download the newly upgraded Hubhopper mobile app. Head to the Google Play Store and search for the Hubhopper app or you can simply visit this link to download the app. Make sure to allow access to the app to use your device's microphone.
Start your podcast
Create an account
When starting your podcast on the new Hubhopper mobile app, your first step will be creating an account for yourself. To do so, open the mobile and click on the '+' button in the middle-bottom of the screen or go to the 'my hub' screen.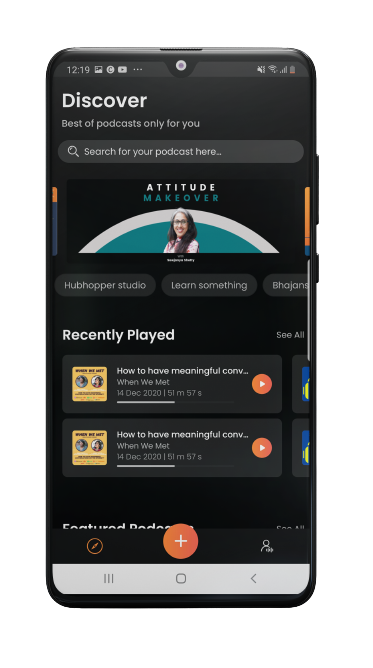 This will lead you to the login window where you can create your account by adding your personal details or you can also login through your Google account. Once you are logged in, you'll be directed to a new window where you can start creating your podcast channel.
Add podcast details
To start setting up your podcast, you'll be asked to add necessary details.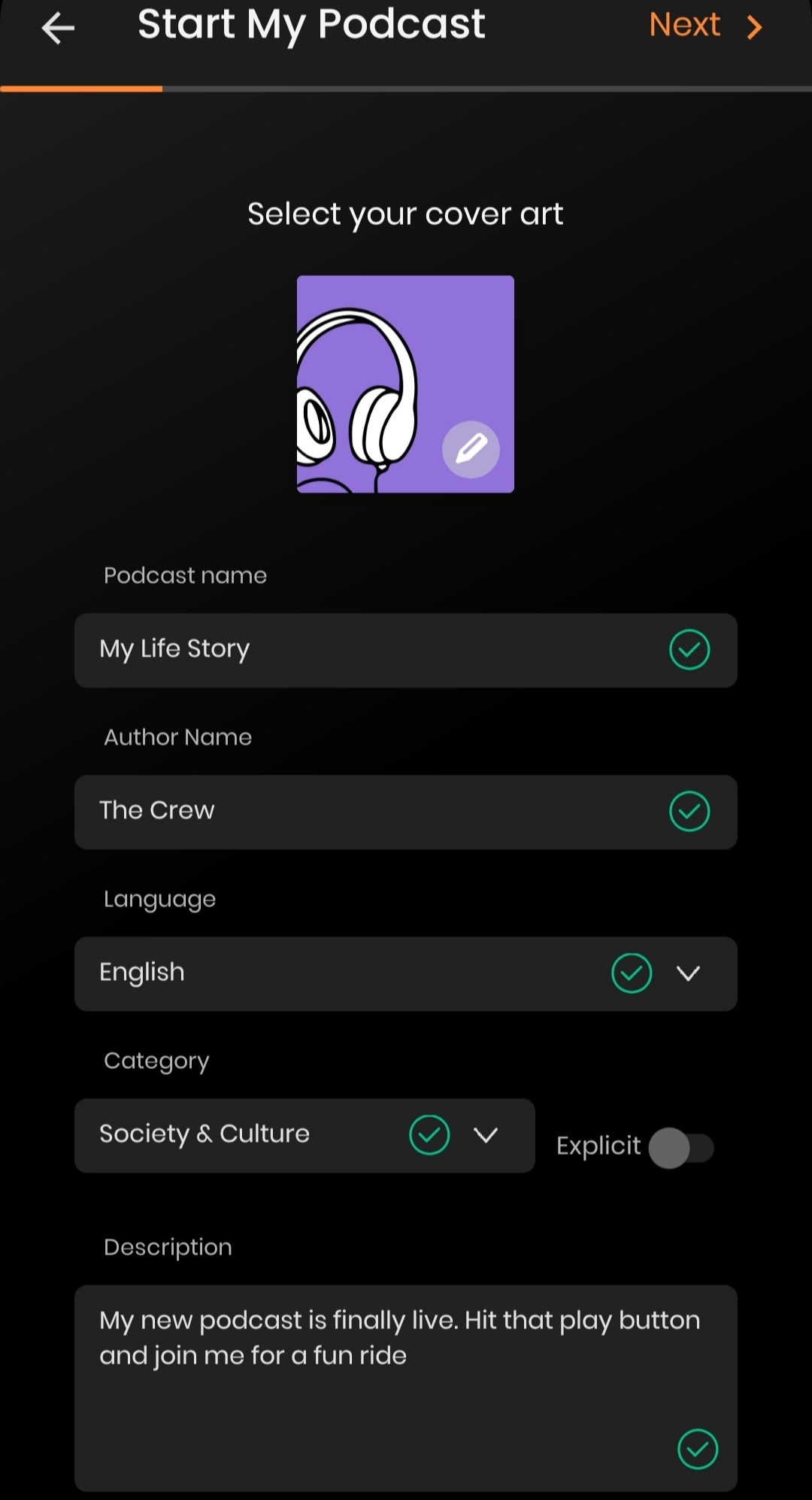 Here are the fields that you will have to fill up to proceed forward:
Podcast name: Keep your podcast name short & crisp.

Learn

more

Author name: Add the owner name of the content

Language: Choose what language will your podcast be in

Category: Select a category that best fits your podcast content

Podcast description: Summarize what your podcast is all about. Share your social links.
Upload podcast cover art
If you already have an image designed, you can simply upload it. If you are yet to design one, we recommend using the Canva tool on their website to get started with designing professional-looking cover art for free. While designing, make sure to follow these requirements:
Cover art to be in ratio 1:1 (square)
At least 1400 x 1400 px in size
Image to be in RGB scale
Image to be a JPEG or PNG file
Learn more on how to design professional-looking cover art for your podcast.
Record episode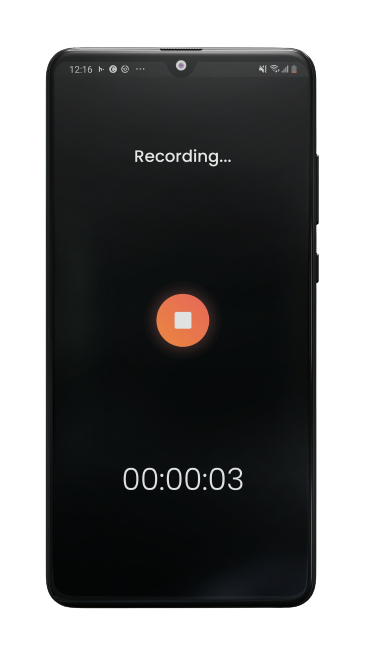 First, you will need to provide permission to the application to access your mobile recording input. Once done, click on the '+' button in the middle at the bottom. This will direct you to in-app audio library. Next click on 'Add audio file' and then on 'Create new recording'.
After this you will land on the in-app recorder where you can simply hit the record button to start recording your audio. If you wish to use an external device to record, like an earphone microphone piece, connect the device before opening the recording tool.
Start by recording your podcast introduction episode, where you introduce yourself & your new show, and what all the listeners can expect in the coming new episodes. In your next recording, you record the main body of the podcast and then the conclusion.
With a recorder right in your pocket, you can record your episode at your convenience. Once done, you will find all your recordings in your in-app audio library.
Edit Episode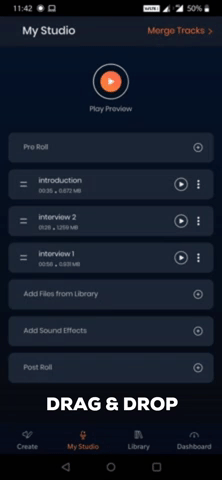 Editing on your mobile phone has been made easy with our audiovisual editor tool. It is as simple as dragging, dropping & arranging your audio segments to construct your episode.
If you wish to edit an audio segment, simply
Click on the three-dot icon on the right and choose to edit. This will open the audio segment editor.

You can select which part of the audio track you wish to keep or remove by simply dragging the timeline hands to define the space you wish to work on.

Hit the 'delete selected' to delete the defined workspace

Hit the 'keep selected' to keep the defined workspace and delete the rest.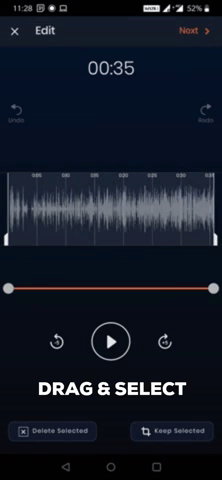 You can also add 'pre-roll' ( introductory music) & 'post roll' (concluding music) to your podcast episode. These audio segments are basically to cue the start & the end of the show. You will find all these audio segments in the in-app audio library. Simply click on the '+' button and choose between different pre-rolls & post-rolls and sound effects. You can also edit your selected music as per your requirement.
Another thing you can do is find various interesting sound effects from the in-built audio library to add in your episode. You can look at adding such audio segments to make your podcast more immersive.
Upload & Publish Podcast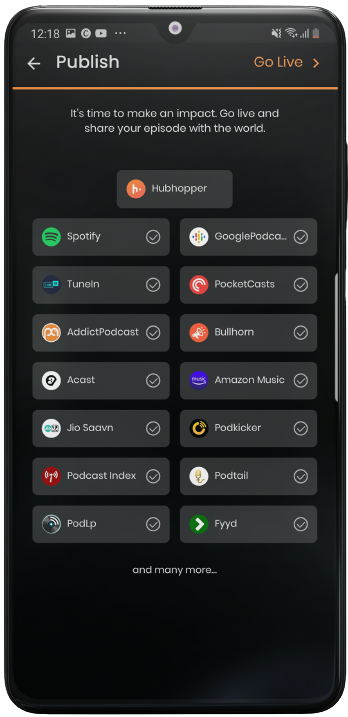 Once your episode is ready, simply upload your audio file & publish your podcast live. You can control your podcast distribution through the new Hubhopper mobile app. Simply choose which platform you wish the system to automatically distribute it for you and hit the 'distribute' button. Check out this article to know more about where all you can distribute your podcast through Hubhopper.
Data Analytics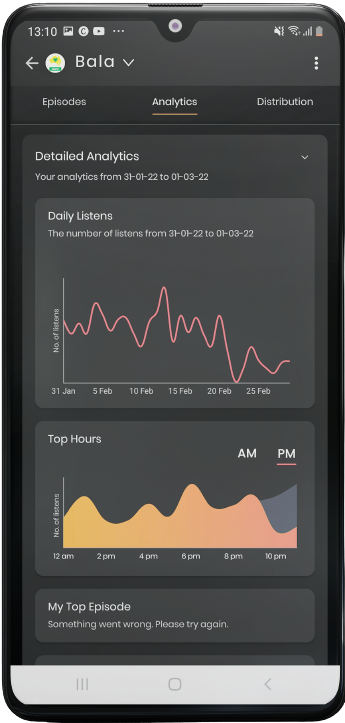 To view your podcast data analytics, you will have to wait for some time for some data to be captured first. Once there is a handful of data to be presented, you will be able to view the performance of your podcast. You can view the following data points on your mobile app:
Daily listens
Total Listens
Growth in listens
Unique listeners
Growth in listeners
Episode wise listens
Hourly listens
location wise listens
Spotify Analytics
More Features & Tools ( Available on our website )
To access more features & tools, you will have to log in to your Hubhopper account on your desktop. Here are some amazing features & tools available for you:
Microsite: Create a free website for your podcast. A personalized page for you & your podcasts
Embed player: Add your podcast to your website with your own customizable embed player
Listen to podcasts
With the Hubhopper mobile app, you'll not merely tune in and out of a podcast show but rather enjoy a premium listening experience. Our set of newest playback features will take your podcast listening to another level, all for free.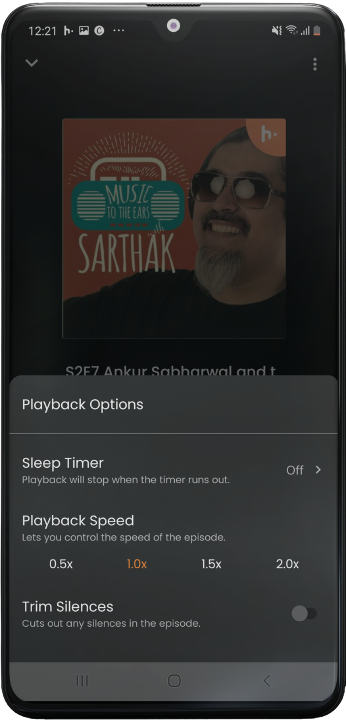 Here are some of the playback features that you can enjoy in the new Hubhopper mobile app:
Create a playlist for every mood:

Add your favorite episodes to the playlists and tune into them on repeat.

Download episodes

: By downloading episodes, you can listen to them offline whenever and from wherever you like.

Set the sleep timer:

Fall asleep listening to your favorite podcast by setting up a timer.

Subscribe and turn on the notifications:

Liked a podcast too much? Subscribe to it and turn on the notifications to get the latest updates! Get notified every time there's a new episode.

Adjust playback speed:

Podcast too slow?

Speed up to 2x based on your preference.

Dark theme:

Switch between light and dark themes based on your mood.

The 'Love' button:

Hit on the heart on the podcast episodes you liked & comment to show love to the creator.

Sharing icons:

Enjoying a podcast? Share it with your friends!
Know More
We hope this bigger and better version of the Hubhopper mobile app amplifies your podcast creation and listening experience. Download the Hubhopper mobile app and let's get you started with podcasts!
This article covered the technical aspects of starting your podcast on the mobile application. Check out this article to know more about the creative aspects related to podcasting.
For any queries, you can contact our support team at support@hubhopper.com