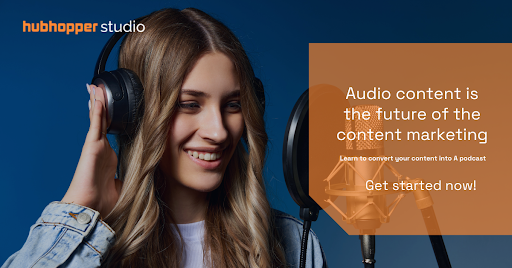 A podcast, loaded with information and entertainment, is an incredible way to draw customers into your world without letting them know.
With content available across every imaginable subject matter, there's something for everyone here! You can easily find podcasts on any topic or industry: from business advice to cooking tips, from spiritual to talk shows, from comedy to thriller shows, all with an engaging tone of voice. Podcasting is a mix of valuable knowledge with entertaining wit and seamlessly keeping listeners hooked.
Podcasts are a powerful way to add new dimensions to your brand. It gives listeners an inside glimpse of who we are as people too.
Podcasting is also easy to repurpose for other mediums like video or text-based blogs, thereby opening doors for a wide range of audiences. So, if you haven't started yet, just jump in today because this giant won't be much longer before it wakes up and eats everything else out there!
5 Reasons podcasting should be part of your content marketing strategy
Here are few reasons why podcasting to be a part of your content marketing efforts:
1. Low barrier to entry or beginners
Podcasts offer a low barrier to entry for beginners looking to learn about the basics of podcasting.
Podcasts are one of the easiest ways to create new content, which is just one of the many reasons it's such a natural fit for your online marketing strategy. All you need is reliable recording software and a good microphone to get started. Hubhopper Studio offers a user-friendly platform to help podcasters start their podcasting journey.
You can always invest in expensive equipment or even rent studio space at a later stage when you are more grounded as a podcaster. Right now, you first need to start your podcast to reach that level. To know key tips that will help you in starting your podcasting journey, you can visit our blogs.
2. Easy to consume
Podcasts are a unique form of media because they can be listened to anywhere and at any time. Even with a busy schedule, it's easy to find time for audio content. You can easily tune in at work, gym, while doing your chores, driving or enjoying some downtime before calling it a night. You'll always have an interesting topic nearby no matter where you go!
Podcasts do require some focused attention as new episodes come out every week. Still, it's worth the time investment if not only for entertainment purposes - listeners can learn valuable information about business trends that affect their day-to-day lives without any effort on their part.
3. Drives regular engagement
Podcasts are a great way to spice up your day with good conversation. Also, a great way to keep up with the latest going on in your industry. After all, people are more likely to listen and engage when they hear their interests being discussed from an entertaining voice!
As a podcaster, you'd love to see your audience keep coming back for more. And what better way than with fresh content delivered right on time. With the release of new episodes regularly and updates being sent directly to subscribers, it means that they'll be more engaged in each episode and open up doors for connecting social media platforms such as Twitter or Instagram.
4. Build brand affinity
Podcasts build brand affinity and set them apart from the competition. Wit is powerful and podcasting has the power of humor on your side with a good audio engineer behind you!
People are naturally compelled to catch every single episode of their favorite podcast. Like Netflix, they will often dedicate an entire day or evening to binge-listen and they'll skip out on any other obligations for the sake of catching up with it all in one sitting.
It has a certain pull that can be hard to resist—even when someone's boss demands them to do something else at work!
Podcasts can also act as a marketing tool for your brand. They can be an invaluable resource for any company looking to create goodwill in their community as well as promote themselves or the products/services they offer.
5. Boosts content creation
Podcasts are a more engaging way to communicate with your audience. With the advent of podcasting, it has never been easier to create a unified content front for your audience that engages them in more ways. Therefore, podcasts can be used simultaneously with written and video content, an effective strategy for reaching more people.
Podcasts can be inspired by blog posts and video ideas or vice-versa. They are excellent fodder for providing new, creative topics for blogs or videos. The circle is complete: you can use podcasts as an inspiration point in one direction while constantly coming back to other media avenues to generate fresh material.
5 Compelling reasons to start podcasting
1. Gaining popularity
Podcasts are a fast-growing medium as more people are discovering them and becoming immersed in this medium every day. Audiences have been discovering and learning the amazing world of podcasting in recent years because they're affordable to produce. You don't need any equipment or experience as long as you can talk. With so many different subjects covered in these programs, from business advice to lifestyle tips to spiritual shows to motivational speakers, there's something for everyone out there.
2. Easy and affordable entry
Podcasting can be simple and inexpensive if you plan well – all that's required is a microphone (your regular ones will work fine) and a user-friendly platform like Hubhopper Studio.
Hubhopper Studio offers tools like recording and editing for simple podcast creation. You also get a micro-website to bedazzle your podcast. There's no need for any technical training either. Skills will come naturally as you grow old with each episode. You could also find tutorials online on how to use these tools.
3. Multiple mediums potential
Podcasts are also a gateway to produce multiple forms of content simultaneously. You can convert your podcast into videos or blogs and share it on different platforms to gauge the attention of different sets of audiences.
For example, you could record a video or an interview with an industry leader and then release it as a podcast, blog (with transcript), or even a short film on YouTube!
4. Collaborative potential
Podcasts are like a big family; you should be the best and helping member. You can benefit by going on other podcasts and listening to what the experts say. You will also be able to help them with their content if they are willing.
Such collaborations allow you to reach a different set of audiences and make your presence while helping the other podcasters. There are multiple ways in which you can grow your podcasts through valuable collaborations.
5. Discovering new audience segments
Podcasts are the best way to reach new segments of your audience and break them in with audio content.
People who prefer listening to podcasts may never discover your work unless you break them in with audio content. But don't worry! With a podcast, you'll be able to reach new audiences and broaden existing ones as well in no time.
Podcasts and SEO
Podcasting has opened up the world to a new form of broadcasting. Anyone with access to recording equipment can now jump into this field and share their thoughts on any topic they are passionate about simply by narrating them in an audio format. It is later uploaded as files onto sites like Hubhopper, Wynk Music, Gaana, Google Podcasts or iTunes for distribution.
Podcasts have also revolutionized how SEO works. If you use your podcasts correctly (by listing and distributing individual episodes of your podcast site), it will boost the search engine visibility, which means more people will be able to find you easily without having to go somewhere else!
Over time, as your podcast becomes more popular, it will attract more citations and other types of links. This is vital for improving your domain authority, which will make it easier for your site to rank. If you're interested in building a separate domain, you can do that too, using your podcast as an engine of exclusive support.
Closing thoughts
It's no surprise podcasting is becoming such an integral part of our lives. In today's fast-paced world, where we don't have time to consume a lot of content, podcasts can be listened to anywhere and at any time.
Podcasting will be a powerful facet of your existing content marketing efforts. In no time, you will be able to monetize your podcast.
The trick? Choose quality over quantity and take it slow. Your podcasting journey will help you grow in many ways and will open many other doors to endless opportunities. Create your podcast today with Hubhopper Studio.
Happy Podcasting!