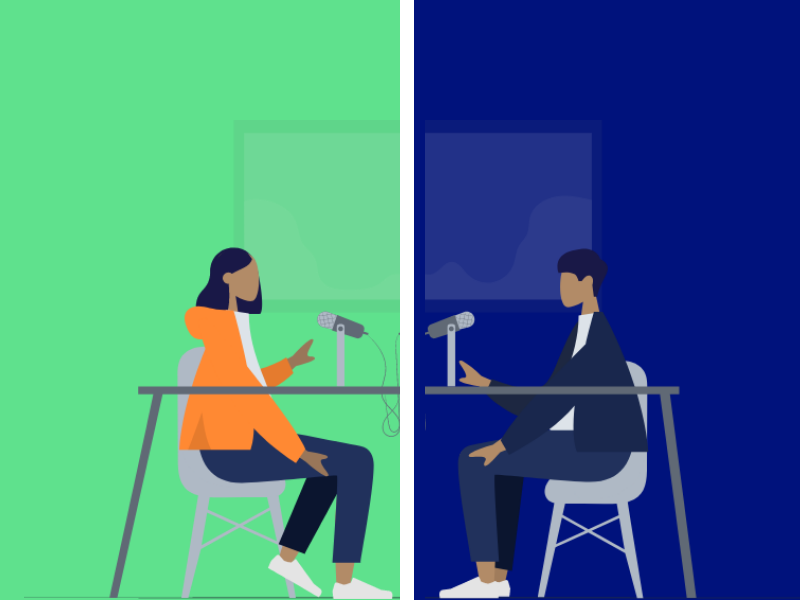 With all the quarantining that we've done in the past few months, managing work from home has become a lot easier than it used to be thanks to all the technology. In these digital times, with the right apps, you can work seamlessly without leaving the safety of your room.
If you are a Podcaster/ Interviewer then you must be worried about how you will conduct interviews with your guests. Don't worry because with the right app you can host interviews without leaving your house. There are various ways and platforms through which you can record your conversations remotely.
However, before discussing their pros and cons, here are some tips about conducting a podcast interview effectively:
Choose a language you both are comfortable with

Prepare your questions in advance and share them with your guest

Ensure both sides have a good internet connection for better audio quality recording

Recommend an available equipment to your guest for the interview and test it before recording.

Ease up the interviewee by making small talks before hitting that record button
Remote Podcast Recording Software
In this section, we will introduce you to some software that will help you in interviewing remotely. To ensure the best quality audio from your end, make sure that you and your guest have a good internet connection. Try to record the podcast interview in a quiet place with a good pair of headphones.
Google Meet
Previously called Hangout meets, Google Meet is a free video-conferencing software from Google itself and is a safe, secure and, lightweight application. If we talk about its features for its free tier users then, it has a time duration of 60 minutes per meeting and 24 hours for a one-on-one meeting. The host can have up to 100 participants in a meeting. If the host uses paid tiers of Google Meet, then the traffic of up to 250 users is allowed.
Pros:
You can easily set up meeting sharable links & send calendar invites to your guest

It is free to use & is available as an application for your mobile phone as well

Up to 49 people can be viewed on the screen

Integrations with Gmail and drive make general accessibility more efficient
Cons:
It has

fewer screen sharing options than zoom

The direct recording feature is a paid feature under G-suit. Hence, you will need to use a third-party tool to record the conversation.

It is mainly for online corporate meeting purposes
Skype
As we are all familiar with, Skype is a great tool for both video & audio calling others remotely. A free application that allows you to call & record your conversations. Available as an application for both your mobile phone & your desktop. You can also use it directly on your web browser. Skype calls can be recorded for up to 24 hours in Mp4 file format.
Pros:
It is free to use and is available as an application for both your mobile phone & desktop
Allows you to record your conversations within the application
It has more recording time compared to other platforms
Records decent audio & video quality with live subtitles
Cons:
Requires your guest to have a Skype account
Audio recording does not do justice to the quality microphone you are using
Effective in internet enabled areas only
Zencastr
Zencastr is an audio-focused tool for conducting remote interviews & conversations. A software built for podcasting, that you can use directly from your web browser. No download needed. It ensures high audio quality recordings, along with some very useful features to help you with your audio production process. It is a paid tool with a free 14 days trial period. However, due to the recent Covid-19 outbreak, Zencastr is offering free unlimited recording time & guest in their current free 'Hobbyist plan'.
Pros:
High quality audio recording for up to 3 hours
Audio focused software with redundant backups
Sharable link for the guests
Provides separate track per guest locally
No installation needed
Cons:
Limited to audio recording in Mp3 format in the free tier
Not available as a mobile app
Doesn't support call-ins from mobile phone
Squadcast
Squadcast is a Saas remotely recording platform for podcasters and interviewers. There are three plans that podcasters can choose from, Indie Audio, Pro Audio and Pro. In every tier, a free trial for 7 days will be available to the users. Squadcast records separate tracks for everyone in WAV and Mp3 format. Hosts and guests don't need to setup or install while running remote recording.
Pros
Studio quality recording
Progressive uploads where your files are uploaded in the background of the conversation
Automatic backups for your files
Supports latest versions of Chrome, Firefox, Opera, Brave, and Edge
Cons
Allows only up to 4 people in a session, 1Host+3 guests
Works on Android devices only through mobile browser app
Zoom
Zoom is a free conference hosting app that runs right in your browser. It is one of the simplest audio interview recording app that you can use for your podcast. Podcasters/interviewers can host up to 100 participants in a single meeting. The maximum duration for holding a meeting is 40 minutes. Zoom records audio files in MPA and MP4 format. If you record separate tracks for each speaker, you get two M4A audio files.
Pros
It is available on PC, Mac and iPhone/Android devices
Records a separate audio file for each participant
Records audio files locally or cloud with searchable transcripts
Screen sharing feature available
Cons
Guests need to download the Zoom launch application to join a meeting
Audio quality isn't always A+
Only the guest can share the screen in the free tier
These were a few platforms that you can record an interview on remotely. If you want to take on a free platform, then Zoom will suit you better but if you are looking for high quality audio, then a platform like Zencastr or Squadcast will be better. It all comes to what features suits you the best and helps you in making your podcast easily.
Happy Podcasting!