Collaborating with creators and industry experts is one of the fastest routes to grow your podcast. Collaboration is a two-way road, you bring an influential and insightful guest to your podcast and similarly you become a guest on theirs.
It's a give and take of perspectives between you and the collaborator and audiences for both the podcasts are in for this audio treat!
Let's see how collaborations can benefit your podcast:
You get to connect with interesting folks from your community and hear their story, perspective and opinions on various topics

It helps you tap into a fresh set of audience

You get to expand your network that in turn creates more opportunities for you

The more you engage and gain from collaborations, the more you gain credibility

Your collaborator brings a fresh perspective to your audience

You get a way out of your occasional slump

Through collaboration, you also get to tap into the social media audience pools of different creators
Now that you have a few reasons to think about collaborating with other podcasters let's dive into how you can really pull off these podcast collaborations.
Identify potential collaborators
Your first step should be finding interesting people to collaborate with. Connecting with the right people is the key to having an insightful conversation and a successful collaboration.
Here is a checklist to keep in mind while looking to collaborate with other creators. Whenever you chose a creator, ask yourself a few questions:
What is the objective that you want to achieve through this collaboration? For instance, increasing traffic to your website

Does the creator's core content connect with yours in any way? E.g. if your podcast is related to cryptocurrency, then that connects well with topics such as block-chain and finance

Does the creator have a similar audience type and size? How can you collaborate so that you help each other grow? E.g. your audience can be active subscribers to online courses from the creator

How do you think you can be of some benefit to the other creator through this collaboration? What are your assets and values that you can leverage in the collaboration?

What value can the other bring to the table to make this collaboration worthwhile?
Remember, it's not about collaborating with famous creators. It's about bringing value to the show by connecting with the right people who are collaborative in spirit and happy to invest their time and share insights.
Collaboration is a business exchange of efforts and values between two individuals where they help one another to move towards their goals. For instance, if your podcast involves interviewing business leaders, you can look at inviting a guest who can provide your podcast with the right exposure within their network. In return, you can look at promoting their upcoming seminar to your podcast listeners.
Networking for podcast collaborations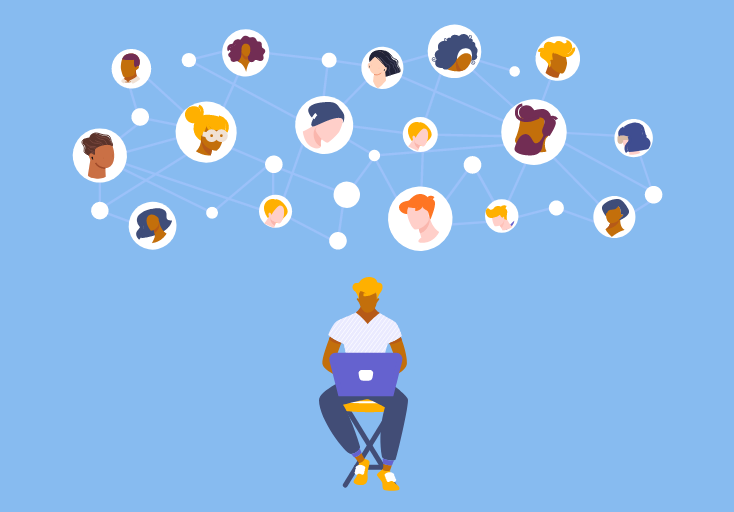 Once you are able to identify your requirements and the potential individuals you wish to collaborate with, the next step would be to connect with them and share ideas. The ways you can approach them depend on where they are most accessible.
You can connect with these creators through any of the following ways:
Email:

If the creator has a website then you can fetch their email ID from there and connect with them. Emails are always in fashion as we check our inboxes regularly. Draft an introduction email addressing who you are and your reason for connecting. This will set the tone for further discussion.

Social Media:

Social media platforms can also be a good place to connect if you want to go for a more casual conversation. Note, if the individual has a good social media presence, they usually don't check their DMs as it is mostly filled with fans writing in. In such cases, if you yourself have a verified account on social media, the chances for others to reply to your DM are more likely. If you do not have a verified account, we recommend sticking with email as most business conversations are carried out via email.

LinkedIn:

LinkedIn is a professional platform that is built to create networks and connections. Connecting with individuals here will create a professional impression. While connecting, make sure to leave a note introducing yourself and your reason for connecting.
These are a few ways you can connect with potential collaborators. You can also look at attending meet-ups and seminars where you will get the opportunity to meet individuals from similar spaces. Such events are a great way to expand your network and get in touch with others who can bring immense value to your brand.
How to pitch collaboration?
No matter where you connect with them, what matters more is how you present your idea and intent to a potential guest.
You can begin by introducing yourself and highlighting some of the work that particularly struck a chord with you. Express how you are interested in collaborating with them and what would you exactly like to discuss about.
Give them some idea about your audience and what your objective is through this collaboration. Ask them if they are interested in scheduling a call to discuss it in-depth.
Sample Email
Hi [Creator's name],
This is [your name]. I'm a podcaster and a content creator. I came to know about you from [source] and I've been following your content since then. I particularly enjoyed [project name] a lot.
I wanted to know if you'd be interested in deep diving to discuss <xyz topic>. Through your work, I feel that our values and vision align well and there are great synergies to be explored.
I am currently working on this [series of episodes] and I feel that we can have a great conversation on the podcast.
Would love to know your interest and availability for the same. If you are interested then we can schedule a call sometime this week and discuss it in-depth.
Best,
[Your name]
This is one of the ways that you can draft your initial email. Once you have scheduled a call, you can discuss all the details and prepare an outline of this collaboration. You can exchange some ideas and go through the topics that you both want to tackle during the episode and see what works the best. It should be a win-win situation for both of you.
Ways to collaborate with your podcast

There are many ways to go about a collaboration. It will depend on the goals that you and the creator are both trying to achieve. It is possible that you both might have different goals and that's okay. What matters is what you two are bringing to the table to help one another meet your respective goals.
Collaborating with other podcasters
If both of you are podcasters then one of the most common ways would be that they appear as a guest on your podcast and you appear on theirs. You begin the episode with their introduction and share a little about the collaboration with your audience. From there it's just like interviewing a guest. The same takes place when you appear as the guest on their podcast show. Here both podcasters are looking to expand their audience by tapping into different audience pools.
Another way to go about this collaboration is by dropping one of your entire episodes in their podcast and vice versa. The host can introduce the guest and explain how they'll be listening to a different type of episode where the guest will be basically taking over the podcast. In the end, tie the episode by encouraging them to head over to the guest's podcast and social handles to listen more from them.
If it's difficult to record an entire episode then the guest can record a small segment, a few minutes long, and the host can include it in the episode. This way, even though the host might not be able to conduct an interview, the audience can still hear a segment from the guest.
Collaborating with other content creators
In this scenario, it mostly depends on the creator's strong suit in terms of content creation. The part where they appear on your podcast as a guest remains the same. They can include you in their content in the following ways:
If they are a blogger, then they can interview you and write a blog about it or even embed the episode where they are the guest.

If the creator has a newsletter then they can mention you in it with your podcast and social media links. While your podcast can bring in more subscribers for the newsletter, in return the newsletter can do the same for your podcast.

If they are social media influencers, then they can give you shout-outs and promote your episode where they are the guest on their social media handles. Not only are you getting valuable content for your episode, but publicity too for the same. In return, it is a gain for the creator as it further positions them not only as a leader in their industry but also as a podium to share about their current projects.

If they are YouTube creators, then you can be in one of their videos and be a part of their content as a part of a series. You can then have them on your podcast and further continue the series to build that engagement. You can also shoot a video version of the podcast and have it stream on their YouTube channel.
Collaboration is a great way to grow your podcast. It helps you in reaching a wide and more diverse audience as long as you collaborate with the right people. Your goal should be to connect with individuals who can bring in value to help you meet your current goal.
Check out our other blogs on how to conduct great interviews and what are the best software to record podcast interviews remotely.
Happy podcasting!