With the latest Hubhopper studio mobile app for Android, you can now easily create, record, edit & manage your podcast, all through your mobile phone! Podcasting has never been this easy. In this article, we will be taking you step by step on how you can start your podcast through the mobile app.
Getting Started - Get the App
First, you would need to download the mobile app. It is currently only available on Android. Head to the Google Playstore and search for 'Hubhoper studio'. Download the mobile app and allow access to use your device's microphone.
Create an account by signing up on the application and you will soon find yourself on the dashboard of the app where you can start creating your podcast channel.
Add Podcast details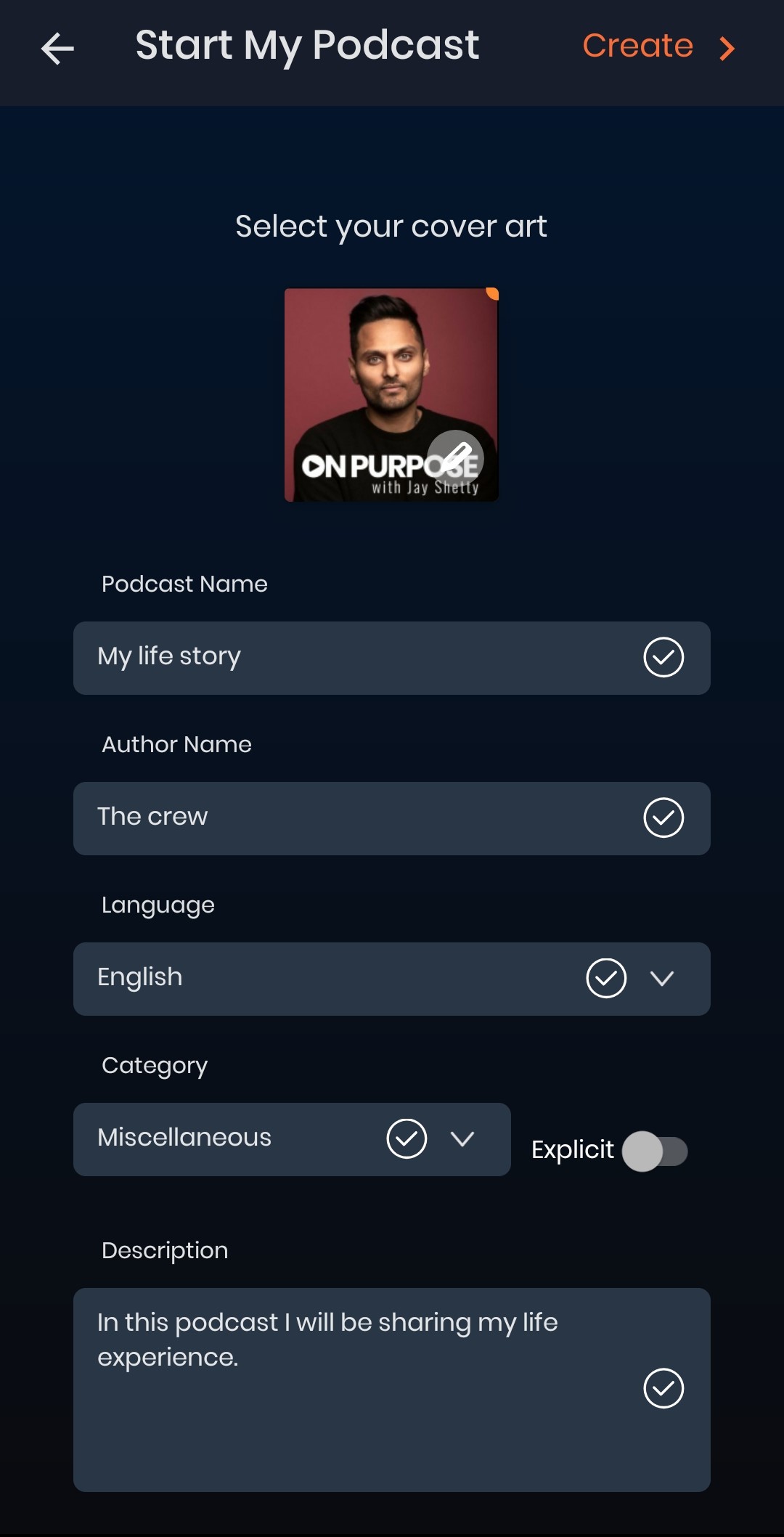 To start setting up your podcast, will you first need to add in its details. Here are the fields that you will have to fill up to proceed forward:
Podcast name: Keep your podcast name short & crisp.

learn more

Podcast description: Summarise what your podcast is all about. Share your social links.
Author name: Add the owner name of the content
Language: Choose what language will your podcast be in
Category: Select a category that best fits your podcast content
Upload Podcast Cover Art
If you already have an image designed, you can simply upload it. If you are yet to design one, we recommend using the Canva tool on their website to get started with designing professional-looking cover art for free. While designing, ensure to follow these requirements:
Cover art to be in ratio 1:1 ( square )
At least 1400 x 1400 px in size
Image to be in RGB scale
Image to be a JPEG or PNG file
Learn more on how to design professional-looking cover art for your podcast.
Record Episode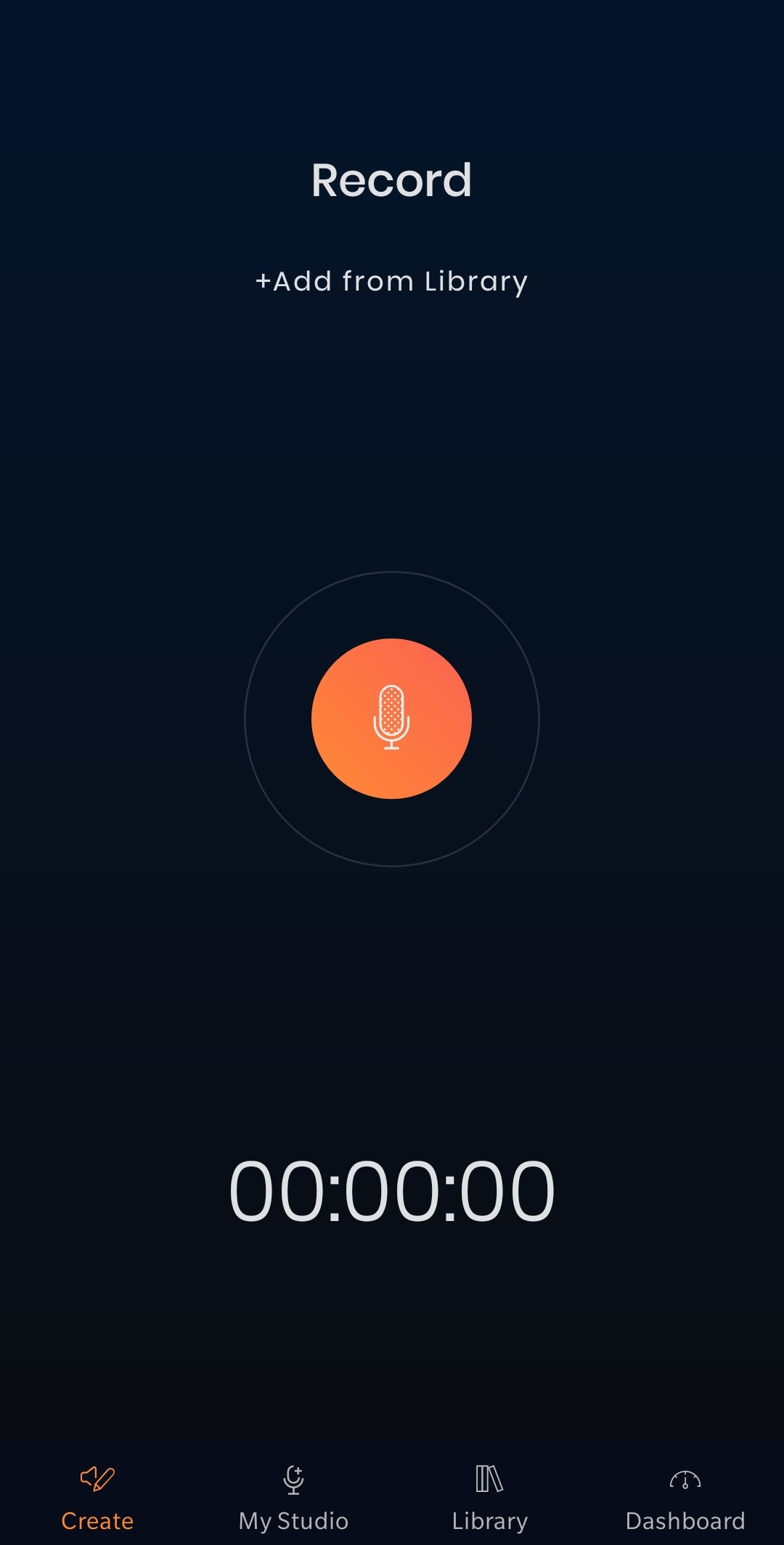 First, you will need to provide permission to the application to access your mobile recording input. Once done, simply hit the record button on the App to start recording. If you wish to use an external device to record, like an earphone microphone piece, simply connect the device before opening the recording tool.
You can record at your convenience and you will find all your recordings in your in-app audio library. Start by recording your podcast introduction episode, where you can introduce yourself & your new show, and what all the listeners can expect in the coming new episodes.
Edit Episode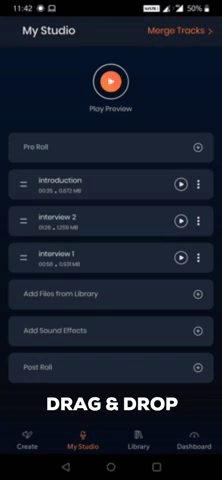 Editing on a mobile phone has been made simpler with our audiovisual editor tool. It is a simple as dragging, dropping & arranging your audio segments to construct your episode.
If you wish to edit an audio segment, simply
Click on the three-dot icon on the right and choose to edit. This will open the audio segment editor.
You can select which part of the audio track you wish to keep or remove by simply dragging the timeline hands to define the space you wish to work on.
Hit the 'delete selected' to delete the defined workspace
Hit the 'keep selected' to keep the defined workspace and delete the rest.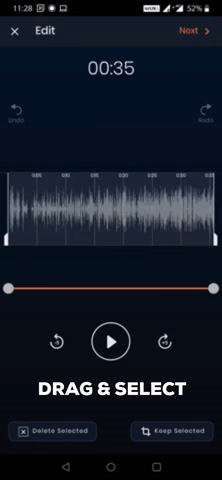 You can also add 'pre-roll' ( introductory music) & 'post roll' (concluding music) to your podcast episode. These audio segments are basically to cue the start & the end of the show. Simply go to 'My Studio' on your mobile app and you will find the audio segments. Once you tap it, it will open our in-built audio library from which you can choose theme music for your podcast. You can also edit your selected music as per your requirement.
You can also find various interesting sound effects on the in-built sound effects library. You can look at adding such audio segments to make your podcast more immersive.
Upload & Publish Podcast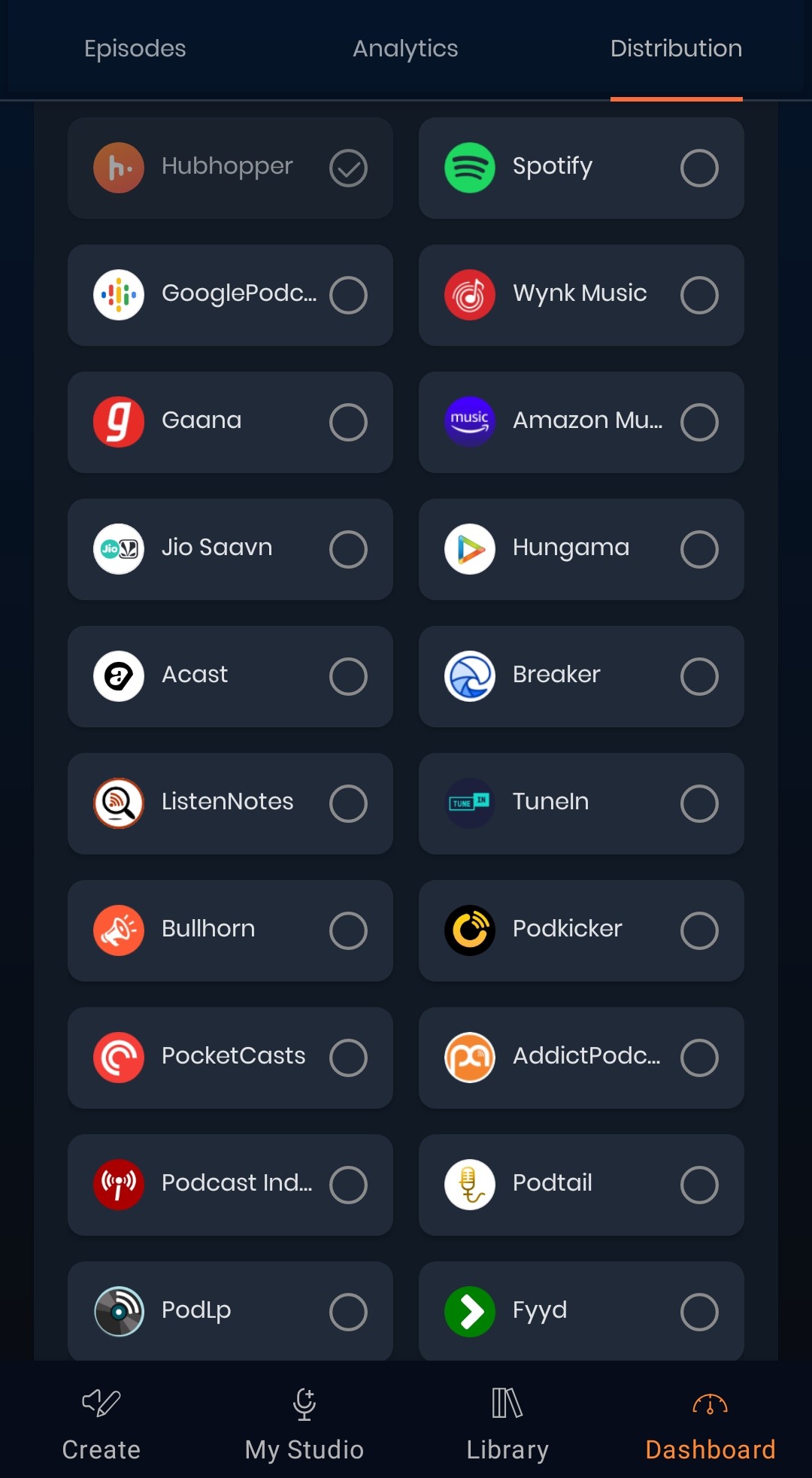 Once your episode is ready, simply upload your audio file & publish your podcast live. You can control your podcast distribution through the mobile app. Simply choose which all platform you wish the system to automatically distribute it for you and hit the 'distribute' button. To know where all you can distribute your podcast through Hubhopper studio, check out this article.
Data Analytics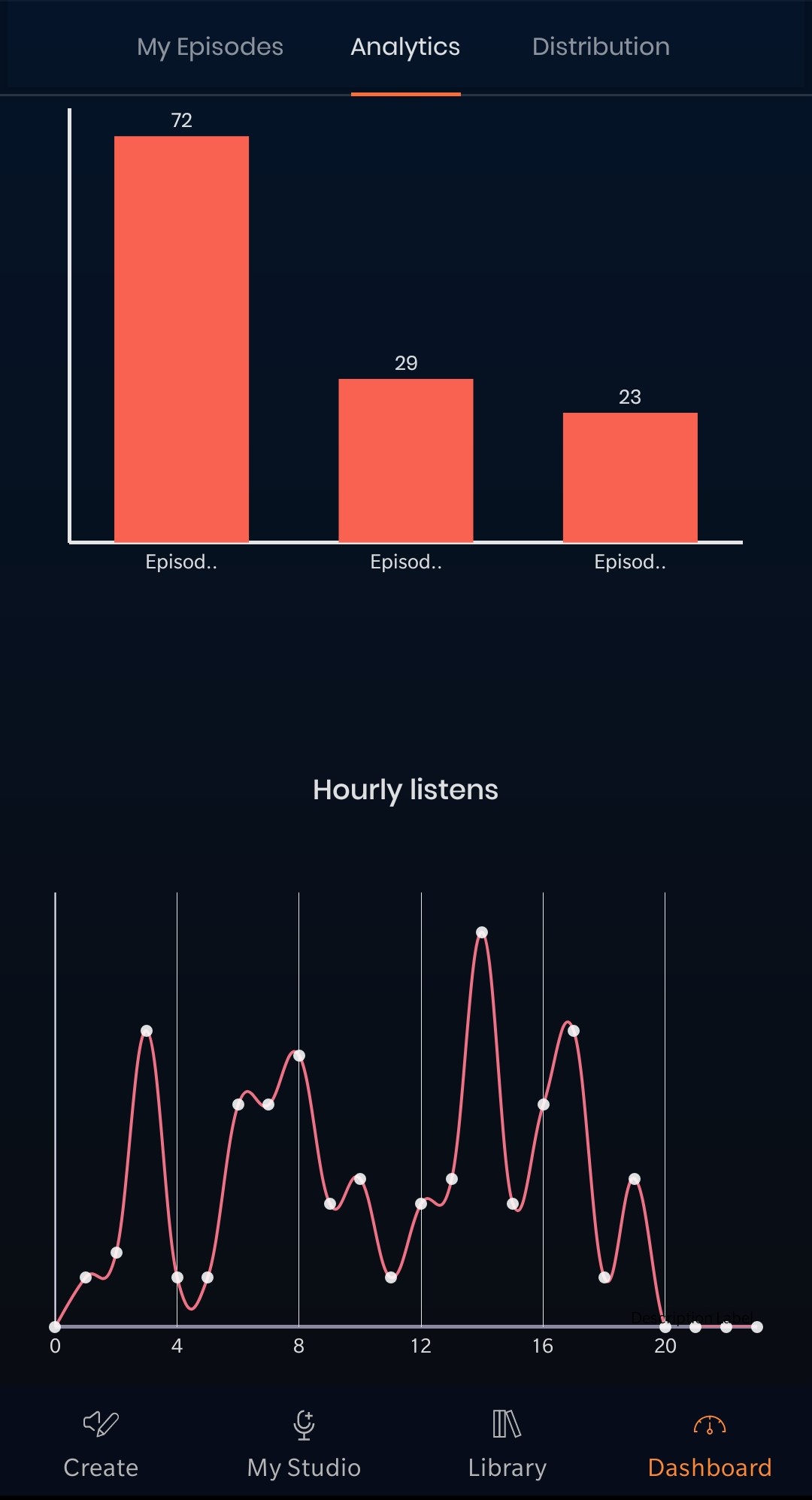 To view your podcast data analytics, you will have to wait for some time for some data to be captured first. Once there is a handful of data to be presented, you will be able to view the performance of your podcast. You can view the following data points on your mobile app:
Daily listens
Total Listens
Growth in listens
Unique listeners
Growth in listeners
Episode wise listens
Hourly listens
location wise listens
Spotify Analytics
More Features & Tools
To access more features & tools, you will have to log in to your Hubhopper studio account on your desktop. Here are some amazing features & tools available for you:
Audiogram tool: You can convert your podcast episodes into social engaging videos for promotions on your social media handles
Microsite: Create a free website for your podcast. A personalized page for you & your podcasts
Distribution tool: Get more access to manage your podcast distribution network
Embed player: Add your podcast to your website with your own customizable embed player
Know More
While this article covers the technical aspects of starting your podcast on the mobile application, check out this article to know more about the creative aspects related to podcasting.
For any queries, you can contact our support team at podcasters@hubhopper.in