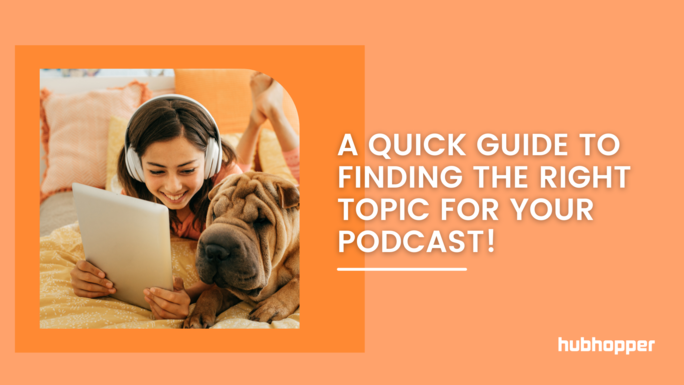 What's the secret to making a successful podcast? It all starts with an idea. But it can't be just any random topic that pops into your head (like how you should wear socks in bed). What's the best way to come up with original podcast topics?
Need a little help coming up with creative ideas for your favorite show or an idea you've been dying to share but don't know where it fits in yet? The answer may surprise you. It's not about finding a hot, trending topic. It's about creating something unique. Something that has never been said in a certain way before.
So, here are some tips to get you started.
Know your goals
We all have our own reasons for wanting to start podcasting. Some want to share their story, some are looking for a creative outlet and others might just be bored at work!
So before jumping into anything blindly, first know why you want to do it. Second, do you think that you can brighten up the day of someone, stuck in one place with nothing else going on?
It's also an excellent tool for those who love sharing what they know about their favorite topic--from cooking recipes, cars and motorcycles repair tips, even video games!
The perfect environment where discussing the most pressing topics of our time can be found on your phone through podcasts as well; politics and current events are just some examples you might find interesting that have been discussed recently by others already.
Regardless of why one chooses to create a podcast though, to think carefully beforehand about how it will benefit them personally is integral before starting this project so there's no confusion later when things don't go according to plan.
Do a detailed audience profiling
By getting answers to these questions, you will be able to decide on the podcast topics and the format that will be most appropriate. The podcast topics will largely decide the answers to these questions:
What is the purpose of your podcast - entertainment, information sharing or educating someone?

What age group are you trying to target?

Does demography play a role in your content?
Follow your passion
A podcast can be a long commitment but if you're not excited about your topic, there's a really good chance that you'll burn out before accomplishing what you wanted to. Even though people may think of the process as entertainment and business moving together, without excitement for both aspects it won't work well at all.
You need to be excited about what you're creating if not the process or it'll show in your work and potentially bumming out your listeners.
Podcasting can seem daunting because of the serious commitment that goes into it but with passion and dedication, podcasting has amazing potential as both personal projects and business ventures.
Choose a specific niche
Narrowing down the selection of various interesting topics is an essential step. To begin with, you can make a generalized list of topics. You can also start asking these questions to zero down on a single topic:
What makes me feel most happy?

What subject am I passionate about?

What topics can I speak about as an expert?

What are subjects that people seek me out for?

What do I do for fun?

What topics do I enjoy talking about?
Once you find answers to these, you will be very much closer to your topic. If you want to create a podcast for possible monetization then you must also consider factors like marketability of the topic, possible opportunities for affiliate marketing, the possibility of creating info products or training courses on the same topic, spending capacity of your intended audience, etc. The best idea is to go with your gut and follow your own instinct.
Do a thorough research
You can start by listening to your favorite shows. Try identifying how they unravel their story and what emotions bubble up as you listen, because that passion is exactly what makes for a great show.
No matter which idea you choose, it's the wit and enthusiasm radiating from the host that makes for a great podcast.
Make your content unique
You might be wondering if there are podcasts that talk about what you love but maybe they don't do it the way you would. Do they have your format, charm or witty back-and-forth? If not, then why should people listen to them when we can offer listeners something unique as long as we stay true to ourselves and stand out for who we really are.
Some topic suggestions that you can choose from
Tech - Conduct reviews and talk shows - a popular choice.

Health and Fitness - Motivate people for a healthy lifestyle and fitness by educating or inviting experts on your shows.

Personal Finance - Guide people with tips for better financial security.

News - Keep your listeners informed of all the latest happenings

Sports - Even though it's a competitive topic, you can still make one of a kind podcast. You can talk about sports training, tutorials, news, and talk shows, etc.

Self-love/Self - Motivate people for a better tomorrow by cultivating self-love.

Motivational - A very popular topic of personal interest. Large scope for affiliate marketing.

Business - Give information on how to successfully launch a new business or a product launch.

History - It's a very popular topic with a large audience base as any sort of history piques people's curiosity.

Stories - One of the most popular niches where you can cover- investigation, thriller, crime, fiction, etc.

Comedy - Another competitive and popular niche. Get into this if you are sure to entertain your audience. It is a difficult art to make people laugh.

Culture - You can pick any culture and talk about it.

Music - People love listening to music and everything related to it.

Animals - There is no shortage of content on this topic.

Religion & Spirituality - You can find a variety of beliefs to share and discuss.

Politics - Stay updated with all political activities in your country and the world and share your point of view as an expert or simply share what's happening.
So, by now you know a wide spectrum of topics you can choose from and start your podcast.
Conclusion
You can make your podcast into anything you want but it's important to remember that the 3 main aspects of a successful show are:
- Your interest in a particular subject
- An audience interested in this topic.
- Your ability to put an interesting spin on an existing topic.
The best shows focus on these three key points and create content accordingly.