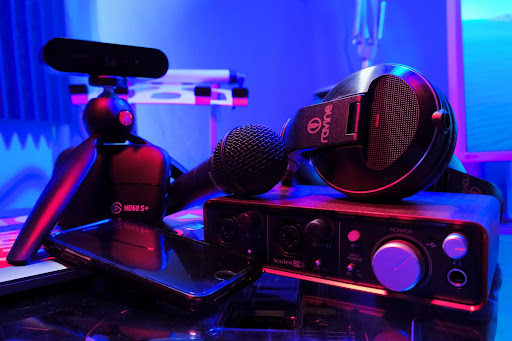 Finding the appropriate podcasting equipment can be daunting. You might be confused what gear to use for better sound effects or what equipment to purchase? No worries! We will help you through this blog in deciding exactly what all you need to create a great sounding show.
Although you can certainly create a podcast with little to no gear at all. But if you are just using your basic smartphone mic then it can be challenging sometimes to get better audio quality because listeners may experience frustration of listening to podcasts that sound scratchy or croaky. Therefore, high-quality audio content is necessary for people who do not want their listeners to turn away because of bad microphone recording sounds.
The best option is typically the one that offers both quality and affordability while still being highly portable so it's easy enough for anyone to use.
Microphone
The wide variety of options of microphones available can make it difficult to choose. Podcasting is a growing medium where it's hard for newbies to stand out. The market will soon reach its saturation and it can be difficult to know which microphone is best for you.
There are a few factors to consider when it comes to microphones, such as the style and cost. We have covered microphone recommendations in great detail in our previous blog which you can find here. For a quick review of what is best for beginner's gear, we recommend Blue Yeti or Audio Technica microphones. Check out these amazing products yourself. You may like to buy them after your thorough research.
Headphones
When it comes to headphones, anything will do at first. You don't need to spend hundreds of dollars on your podcasting equipment right away! The standard Apple earbuds or any other pair you use for music are fine. Just make sure everyone who is recording wears their own set so that they can accurately hear how the audio sounds when played back through speakers and monitors in post-production studio .
One important note: if you decide later down the road that something more expensive might be necessary due to a specific circumstance - sound quality being too low, not enough volume control options available with current setup etc., - then go ahead and purchase. In this case we recommend- Audio Technica ATH-M30X, Shure SRH440, and Sony MDR7506.
Recording and editing software
Podcast recording software is a key component of anyone's podcasting strategy. There are lots of options but in the end you'll be looking for something that fits your needs best and at different price points. The biggest differentiators while considering any software is cost and ease of use. Essentially all of them allow you to record easily. What differs is exporting your audio files in a format that's easy on the listener (and saves space!). You'll also have access to editing tools with which you can perfect every detail from volume balance to pitch correction—although free versions typically lack robust features available through professional programs. So here our recommendations are SquadCast, Audacity, and Adobe Audition.
Hosting platform
After all your equipment buying and recording and editing, now is the time to share it with the listeners. It is important to consider a hosting platform that allows storage and bandwidth capabilities, analytics information, content promotion integrations with other platforms, and website creation options.
For all of the above requirements, your single go to platform is Hubhopper, that caters all of it under one umbrella.
Create a Podcast with Hubhopper Studio. Here is the detailed guide about getting started with podcasting.
Conclusion
Podcasting is one of those things that can be a hobby or an actual job and it doesn't matter how "professional" your equipment looks if you don't have anything good to say. Remember, equipment only makes your show better but what's really going to get people hooked? The only answer is content and we do not recommend shelling out thousands on professional gear without a strong idea what to record with it.