Starting your podcast with Hubhopper is very simple. Visit Hubhopper Studio to sign up for free. You can create an account by signing in using Google or your email address.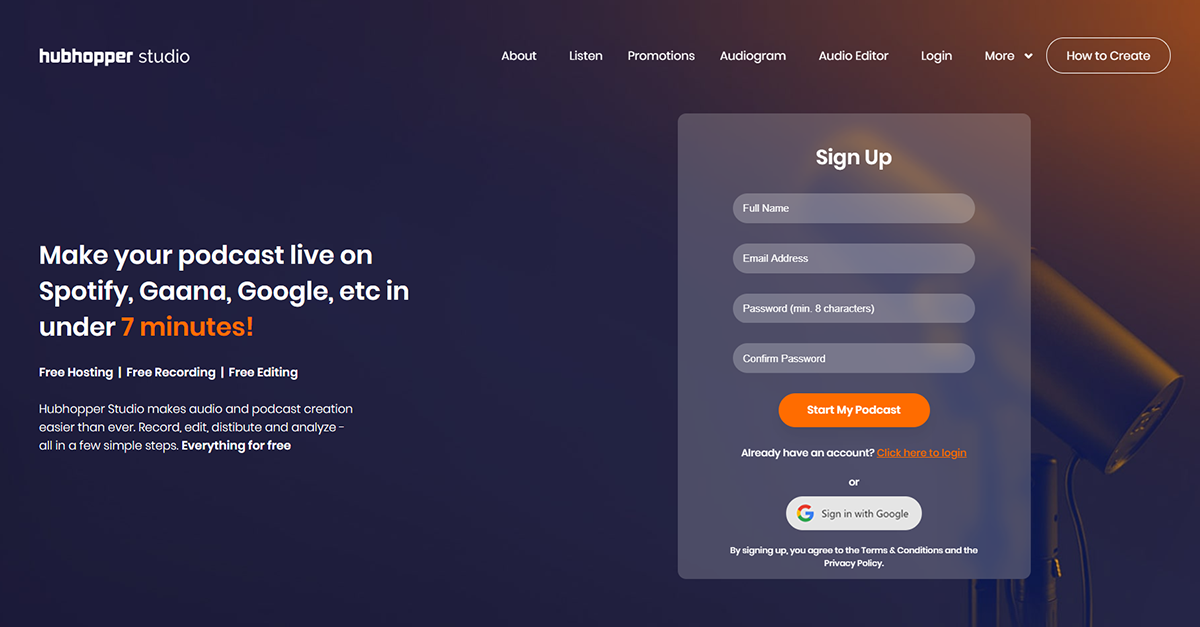 Once your account has been created, you will directly be taken to the 'Create Podcast' screen.
Cover Art: Hubhopper generates a default cover art if you have not yet created one for yourself. You can also select a cover art from your system by clicking on the default cover art. If you are yet to create something, click on the 'Design with Canva' button.

Since Hubhopper is integrated with Canva, this will allow you to design your cover art and upload it right away. To learn how to create a cover art using Canva, you can refer to this tutorial:
If you want to put your podcast on Apple Music & Spotify, make sure that the dimensions of your cover art are 1400x1400 pixels. JPG and PNG are the recommended formats.
Podcast Details:
Add your podcast details - Podcast Name, Creator Name, Category, Podcast Description and click on Create Podcast to finally start making your episode!
Podcast Name

: Enter an interesting podcast name to catch the listeners' eye. Keep it short & unique (3-4 words) so that it's easier to discover.

Creator Name

: Pick the name you want to go by. This will also act as your channel.

Category

: You can pick the category which matches the theme of your podcast well. There are a lot of categories to choose from - for example, Society & Culture, Sports & Recreation, etc.

Podcast Description

: A podcast description is a paragraph that defines your podcast. This is the first thing that a user reads when they land in your podcast to understand the type of content your podcast covers. This is like a book summary. This is a great place to mention your social handles, website, or your email address for listeners to contact you.

Episode Description

: Think about your description as the keywords through which your listeners will find you (think about it like podcast SEO and you'll be good to go). Think about words people may write when searching for a podcast like yours.

Explicit Language:

Switch this option on if there's any explicit language in your podcast.
Don't be scared of making mistakes, you can always come back and make changes.
Once your podcast has been created, you will be taken to 'Create your Episode'. This is where you start working on your episode. This process is divided into two parts - Add Episode Details, and Add Audio.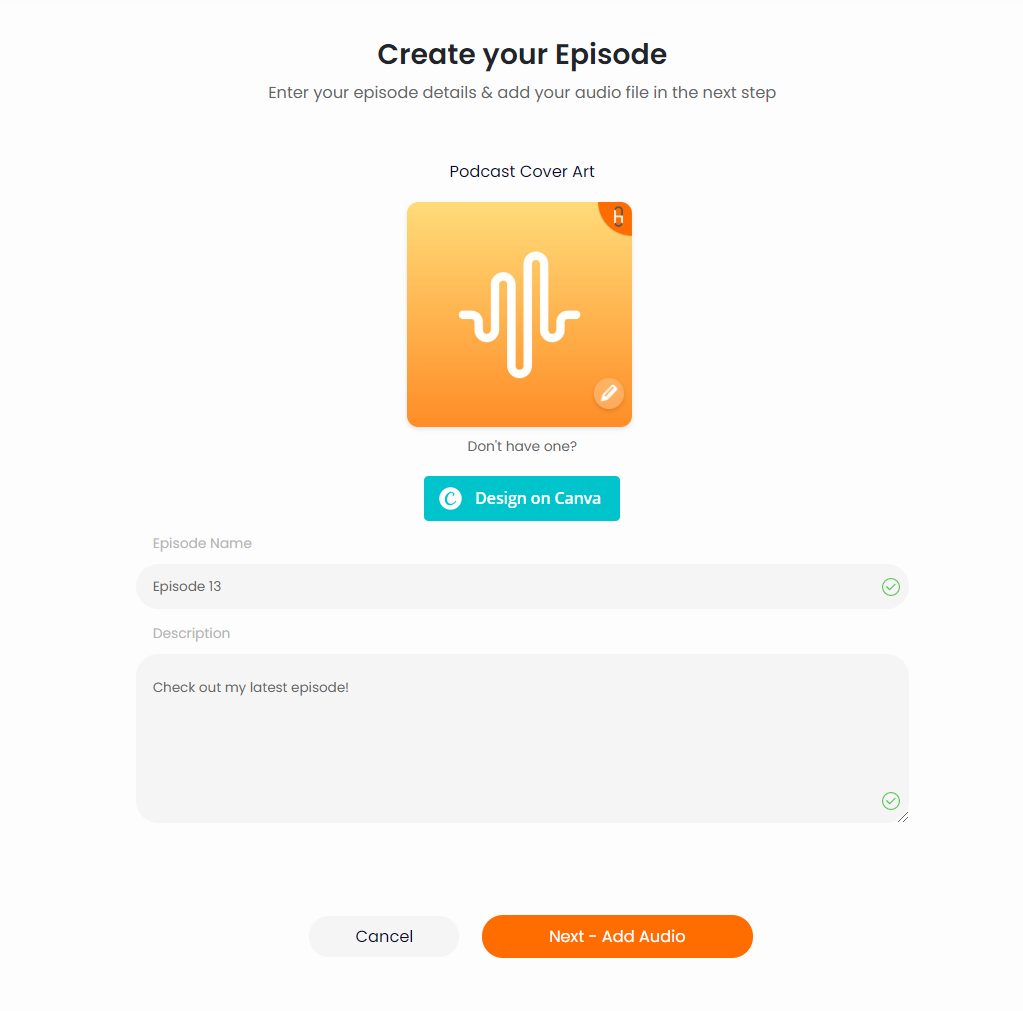 Cover Art: The cover art for the episode is the same as the podcast by default but you can also create different cover arts for different episodes. You can upload an image or design a new one using our 'Design with Canva' button.
Episode Details: Add the episode name and description.
Episode Name

: Enter your episode title in the box. You can also add numbers to keep track of your episodes.

Episode Description

: An episode description is a summary of your episode. This gives the listener a brief on what the episode is all about and what you will be talking about in the episode.
Then, click on add audio to move on to the next step, uploading your episode. In case you want to change something in the future, edit your episode, and save changes.
Upload your Episode: If you have already created an episode and want to upload it, click on 'Add your media file here' and upload the file from your system. While we support .mp3, .wav. mp4, .ogg, .flac, some of the distribution platforms may not accept these file formats. For example, Spotify only accepts .mp3 files.
Record/ Edit Episode Using Editor: If you don't have an episode file to upload, you can record using the Hubhopper Studio Editor. It also has features like trim, duplicate, merge, etc. that can be used to edit the audio. Here's an article on using the Hubhopper Studio Editor.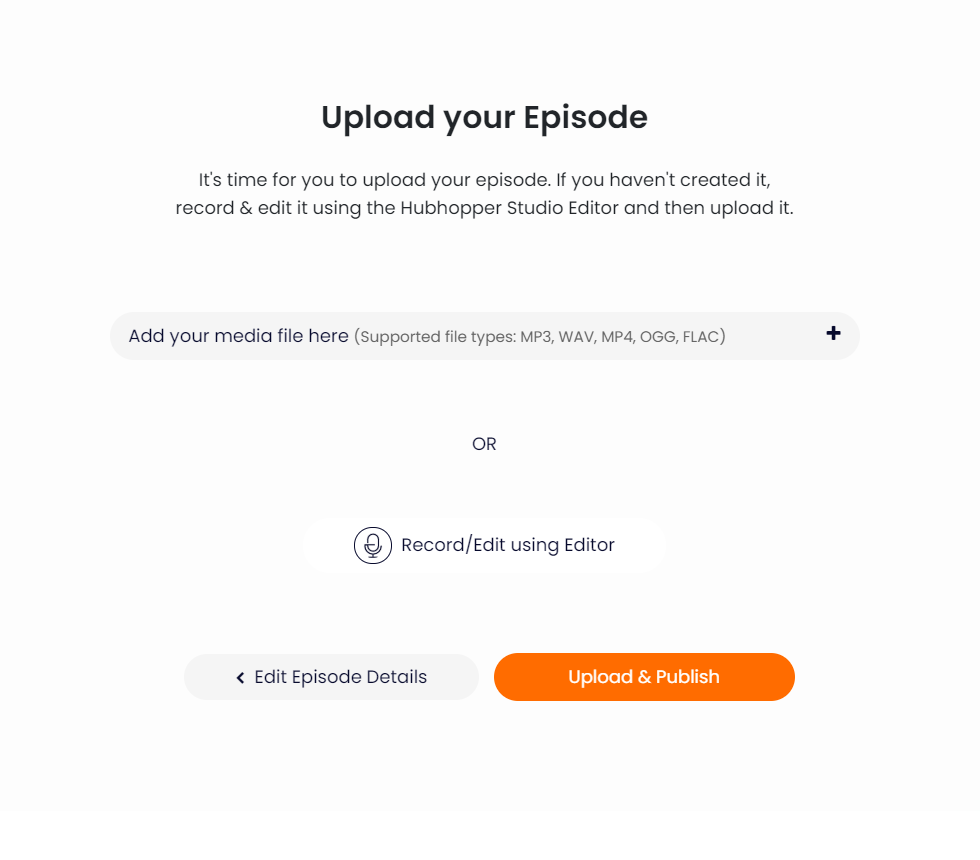 If you want to record on your phone, you can also use the Hubhopper Studio Recorder app available on both, Android and iOS. Next, you have to download the final audio file and upload it to Hubhopper Studio by clicking on 'Add Your Media File Here'.
Publishing Your Episode: Click on Upload & Publish, select the platforms you want to publish on and you will find your podcast distributed to all of them. We automatically distribute your podcast to Hubhopper, Spotify, Google Podcasts, TuneIn, Breaker, Acast, ListenNotes, PodcastAddict, Pocketcasts, Bullhorn, and Gaana.
Promoting Your Episode: Hubhopper also provides users with links, audiogram videos, Alexa skills, embed players, and more.
Here are some articles that can help you with your podcasting journey:
How to Use Hubhopper Studio Editor
How to Get More Listens on your Podcast
How to Submit Your Podcast RSS to other Platforms