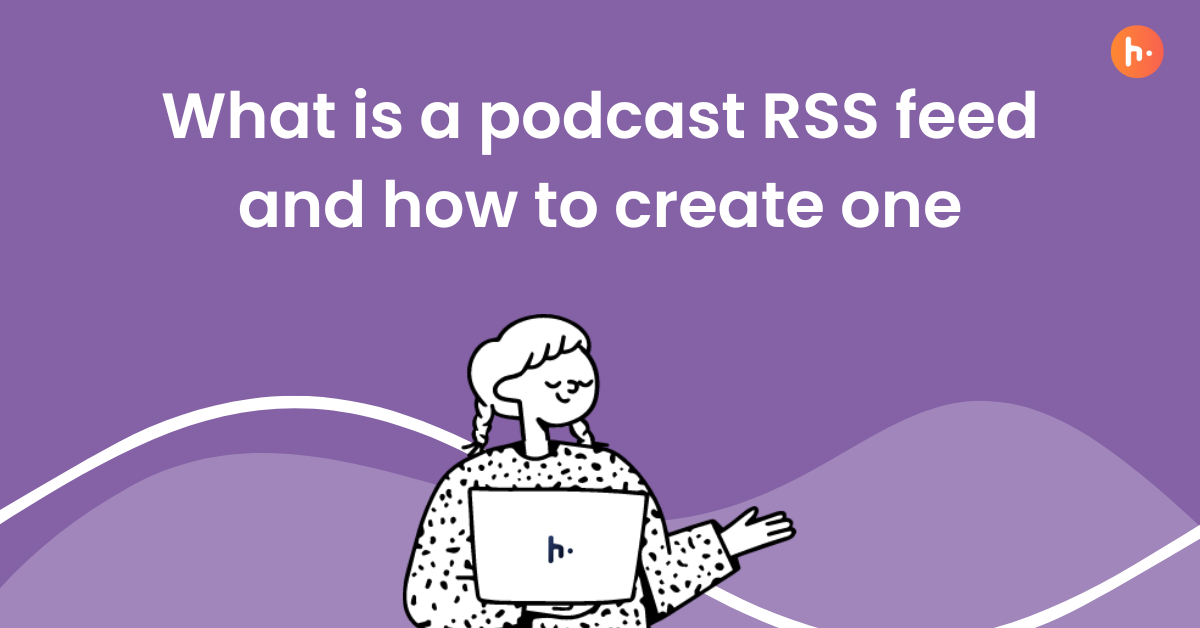 Have you ever wondered how an audio uploaded on the internet can take the shape of a podcast? How that podcast can be distributed to any streaming platform. And how it can be heard around the world by millions. Well, today, we are quenching your curiosity once and for all.
The credit for all this magic behind a podcast goes to its RSS feed. An RSS feed is like a power station that makes your podcast a podcast. Without it, it's practically impossible for a podcast to exist.
In this post, you'll find out what a podcast RSS feed is, how it works, and how you can create one for your podcast.
What is a podcast RSS feed?
Really Simple Syndication or RSS (initially known as Rich Site Summary) is more often used than you might be aware of. When you are subscribing to new sites, blogs, email lists or podcasts, it's all because of their RSS feed.
Consider it as a newsfeed that is updated at regular intervals. Whenever you upload a new episode or make changes in your podcast details, the same is added to your podcast RSS feed, which reflects across all directories your podcast is distributed to.
It's a single power link that contains all your podcast details like the podcast title, coverarts, and information about your show and episodes. RSS feeds are usually created by podcasting hosting platforms, but you can also create one on your own. We'll come to that later. First, let's begin with the workings of an RSS feed in more detail.
How does a podcast RSS feed work?
You might think podcasting is about uploading an episode and simply distributing it to Apple Podcasts. A lot goes on behind the scenes to make it look that easy. This is where your podcast RSS feed comes into action.
Here's how a podcast RSS feed works if you create it through a hosting platform:
To begin with, you'll need to upload and store your MP3 file online. For this, you'll need a podcast hosting provider that will act as a storage house where you can keep all your audio files and podcast information safe.

To make your podcast audio files and information accessible, the hosting platform will create an RSS feed for you. This is the link that will connect your listeners to your show.

To reach your audience, you will have to distribute your link to different podcast directories like Spotify, Apple Podcasts, and more. Your podcast RSS feed will act as a path between you and different directories where your listeners can tune into your show.

When someone tunes into your podcast through any directory, the RSS feed will deliver the audio file and the podcast details from your hosting platform to the directory and your audience.
Every time you update your podcast, the RSS feed will deliver the updated files to the streaming platforms where listeners can enjoy your show.
Important things you should know about an RSS feed
Now that you have a better understanding of a podcast RSS feed, here are some things to keep in mind:
A podcast and an RSS feed are two different things.

A podcast is a series of audio (and sometimes video) episodes that are published online, and an RSS feed is the one that distributes it to streaming platforms like Spotify and Apple Podcasts. The RSS feed is a crucial link that connects your audience to your podcast show.

Sans RSS feed, your podcast simply cannot function.

It is through this link that your listeners tune into your show. Without an RSS feed, no website or directory would be able to access your podcast, making it impossible for it to reach your listeners.

Generally, podcast RSS feeds are entirely free

. If you are using a hosting platform, then it'll provide you with an RSS link automatically. If you want to create the RSS feed through a WordPress plugin, then you can look at plugins like PowerPress or Seriously Simple Podcasting.
Creating an RSS feed through a hosting platform
The easiest way to create a podcast RSS feed is through a hosting provider. All you have to do is host your podcast on a platform like Hubhopper, and the platform will automatically create an RSS feed for you, for free and with no effort from your end.
Hubhopper will act as your storage server and provide you with additional features like data analytics, one-click distribution to global streaming platforms, customized website/player embed, and a lot more.
If you create your podcast RSS feed using a hosting platform, you can find it in your podcast dashboard.
Creating an RSS feed without a hosting platform
If you are creating your podcast RSS feed through a self-hosted site, you'll have to use a plugin to create a podcast-specific RSS feed. Since your website already has an RSS feed of its own, you'll need another RSS feed for your podcast that will only contain your podcast's information.
As we told you earlier, plugins like PowerPress or Seriously Simple Podcasting can help you create a podcast RSS feed for your WordPress website.
Podcast RSS feed requirements
For an RSS feed to work properly, it should fit the Apple Podcasts RSS feed requirements:
The RSS feed should meet the RSS 2.0 specifications, should not be password-protected and must include the following XML declaration:

<?xml version="1.0" encoding="UTF-8"?><rss version="2.0" xmlns:itunes="http://www.itunes.com/dtds/podcast 1.0.dtd" xmlns:content="http://purl.org/rss/1.0/modules/content/">

Your podcast artwork must be displayed, and your host server should be enabled for HTTP HEAD requests and byte-range requests

Each episode should have a unique <enclosure> tag, along with its URL, length, and type

All episodes must contain a globally unique identifier (GUID)

Use only ASCII filenames and URLs that incorporate a-z, A-Z, or 0-9

Respect case-sensitivity across all XML tags
Creating an RSS feed manually can be challenging. We recommend you get an RSS feed from a podcast hosting platform.
However, if you'd like to try out the manual process, you can check if your RSS feed is right by submitting it to Apple Podcasts. If it is incorrect, you might want to check if you meet all their requirements. If it accepts your RSS feed, then it can be submitted to other platforms as well.
Where to distribute your podcast?
Once your RSS feed is ready, you can start submitting it to all the podcast directories. Your listeners can be present anywhere so it's always best to distribute your podcast on as many streaming platforms as possible.
When submitting your podcast, start with Apple Podcasts, not only because it's the biggest directory out there but also because many small directories pull content from Apple Podcasts.
Within 24-48 hours, your submission will be reviewed, and if it gets accepted, your show will be available on the Apple Podcast app.
Here are some other popular streaming platforms that you should not miss out on:
Spotify

Google Podcasts
Stitcher
TuneIn
Amazon Music
Audible
iHeartRadio
Check out our guide for step-by-step instructions on submitting your RSS feed to all these directories and more.
There you go! Now you know what a podcast RSS feed is & how to generate one. We always recommend using a podcast hosting platform to create your RSS feed, as it's the easiest option. To start your podcast, visit Hubhopper.
Happy podcasting!