We firmly believe that consistency is the key to a successful podcast. Hubhopper's Schedule feature empowers you to maintain that vital consistency. Simply record your episodes in batches and pre-schedule them within your Hubhopper Studio.

When you upgrade to Hubhopper Pro, you unlock the ability to schedule an unlimited number of episodes each month, ensuring you stay ahead in your podcasting journey. And if you're using the Hubhopper basic plan, you still get to schedule up to 1 episode per month.
How to use the episode schedule feature
Hubhopper's Schedule feature is designed in a simple UI and is quite easy to use. To schedule your episode, follow these steps:
Create a new episode in your Hubhopper dashboard

When filing episode details, scroll to the bottom. Under 'Publish Date,' click on

Schedule for later

option.

Pick a date and time to publish your episode and click on 'Apply'
There you go! Your episode is now scheduled. You can also check out the video below to see how the new schedule feature works.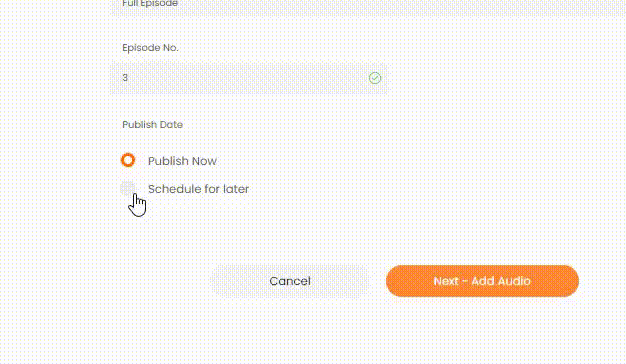 Episode Quota Impact
When you schedule an episode for future publication, the episode quota for the month in which it's created is what matters. For example, if you plan an episode on October to be published on December, the episode quota for October, when the episode was initially set up, is what applies.